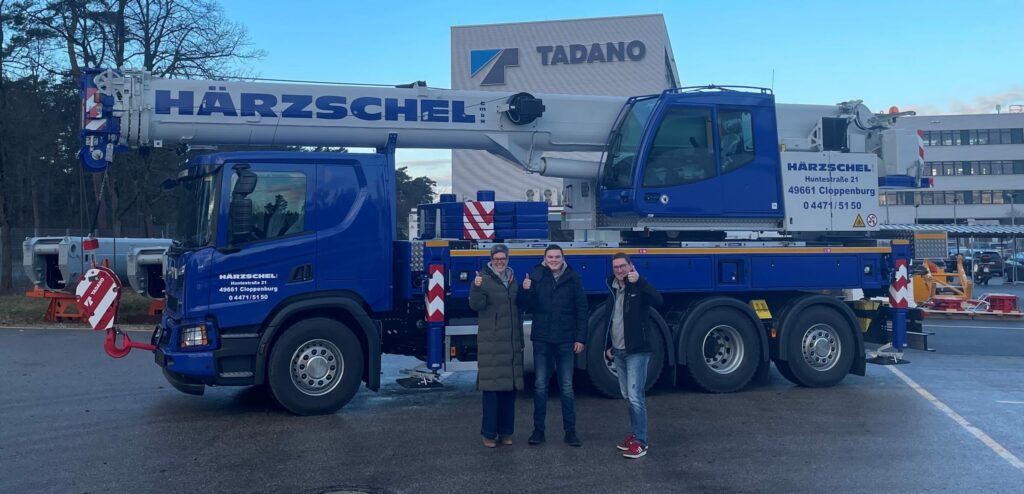 The team at Cloppenburg-based Härzschel Kranverleih has long had a predilection for the advantages behind Tadano cranes: "We have four cranes from Lauf and Zweibrücken in our fleet: an ATF 130G-5, an ATF 65G-4, an AC 4.080-1, and now an HK 4.050-1 that is replacing our previous HK 40 as we upgrade our fleet," reports Managing Director Sylvia Fredeweß, the daughter of company founder Manfred Härzschel.
The company had many good reasons for deciding on the HK 4.050-1: "Its low axle loads mean that we can use the crane without the need for a permit in our region. Together with its large lifting capacity and long reach, this makes it way more versatile than the vast majority of cranes out there," explains Managing Director Sylvia Fredeweß. For Härzschel, another crucial advantage is the truck chassis, which makes it possible to get spare parts quickly and cost-effectively if necessary.
On top of this, the team considers the HK 4.050-1 to be a true all-rounder: "This crane will enable us to cover an incredibly large range of jobs – from machine relocation projects, through roofing and ceiling work in the construction industry, all the way to work in anaerobic digestion plants," Sylvia Fredeweß enumerates. And to prepare it for the latter assignments, Härzschel has equipped its HK 4.050-1 with a load view camera that will make it easier for operators to empty anaerobic digester tanks and do these jobs faster and safer.