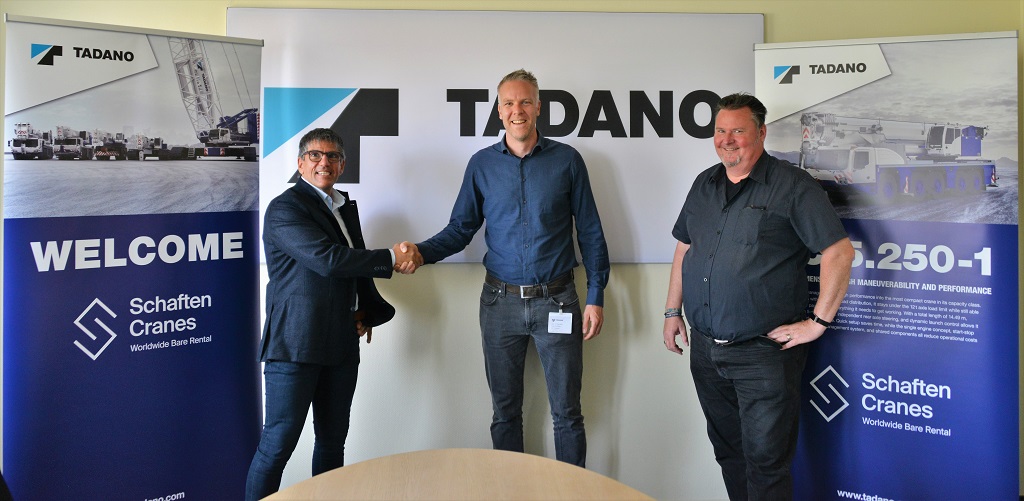 For Tadano Key Account Director Giuseppe Pompeo, it is a real vote of confidence: "With the delivery of the first 6 units of our Tadano AC 5.250-1 all terrain cranes, it is the first step in rebuilding our cooperation with Schaften Cranes and consolidating this very important business relationship with long term orientation", he emphasizes.
Schaften agrees: "We chose the AC 5.250-1 cranes from Tadano not only because of their outstanding quality, performance and acceptance in the market, but also because Tadano has significantly increased its service strength and customer orientation since the start of its OneTadano process in which we place a lot of trust for the future. As a customer, we will benefit noticeably from this gain and so will our customers. We are excited to take delivery of these first 6 units and are looking forward to further expand our fleet of Tadano cranes in the future", explains Martijn Tuijtel, Managing Director at Schaften Cranes.
From Schaften's point of view, the fact that this Tadano crane, with an overall length of 14.49 metres, is the most compact crane in its class, speaks especially in favour of the AC 5.250-1. But its max boom length of 70 metres, which with the large 45-metre boom extension allows a remarkable maximum tip height of 111 metres, are just as convincing arguments for Schaften Cranes as the high cost-effectiveness of the AC 5.250-1.
This is another reason why Schaften Cranes is looking forward to the delivery, which will take place successively between the first and third quarters of 2023.