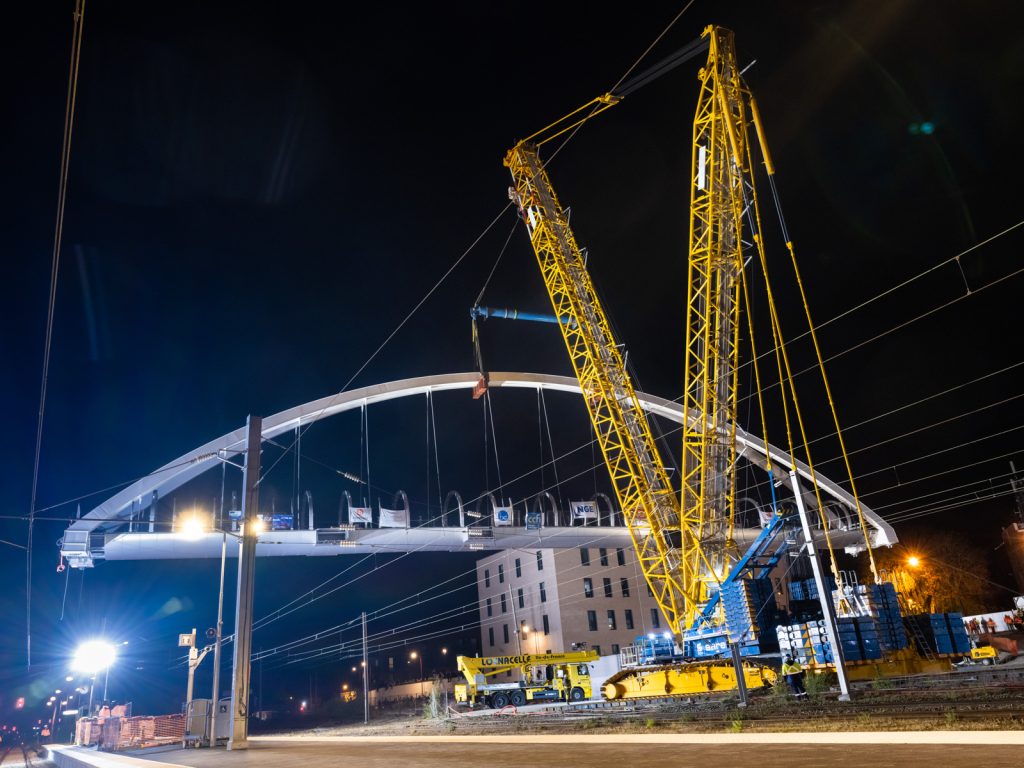 It was important to Sarens Project Manager Koen Rooms that no aspect of this lift was left to chance: "The day before the operation was scheduled, we performed a test lift. It was absolutely smooth and confirmed all our calculations. This gave us the green light for the actual lift the following day, which we had to complete within a narrow time window," he reported.
The time restrictions meant that delays had to be avoided at any price – in all aspects of the undertaking from crane setup through lifting operations to disassembly and removal. This was due to the site location: right by the train station in the center of the town of Hazebrouck in northern France. The task involved lifting a 75 m long pedestrian bridge weighing 250 tonnes across eight train tracks while – in a single maneuver – turning it to align with the foundations set and positioning it on these to connect the train station with a multi-story car park. This necessitated the high-voltage power lines above the tracks being switched off for the duration of the operation.
Equipped with SSL configuration
"We decided to use our Tadano CC 38.650-1 for this lifting operation, and equipped it with a 54 m boom in superlift configuration. This achieves enormous lifting capacities. Moreover, thanks to its compact built, the crane is easy to set up and it can maneuver in even the narrowest spaces," Koen Rooms explains. In an effort to minimize disruption to the town's traffic flow, the lifting operation was scheduled for night time on a weekend. The Sarens team had transported the crane to the site in the week before the weekend operation. After 4 days, the crane was rigged and fully inspected in the SSL configuration and its travel area was prepared with wooden mats.
"The lift was completed in just 5 hours."
To protect the bridge from any damage and lift it as gently as possible, the client had designed special slinging gear for the crossbar that was used for lifting the bridge. "These fixtures removed the need for lifting lugs. This not only reduced the setup time, but also made the lift more predictable," Koen Rooms emphasizes.
Thanks to this perfect preparation, the Sarens team positioned the bridge on its foundations in only five hours, using the Tadano CC 38.650 crawler crane. "This operation involved the crane lifting the bridge to a height of up to 6 m while working at a radius of 27 m. The crane crawled over a total distance of 16 m. A truly demanding task – which our Tadano crane mastered exceptionally well," Koen Rooms concludes, satisfied with the great success of this project.