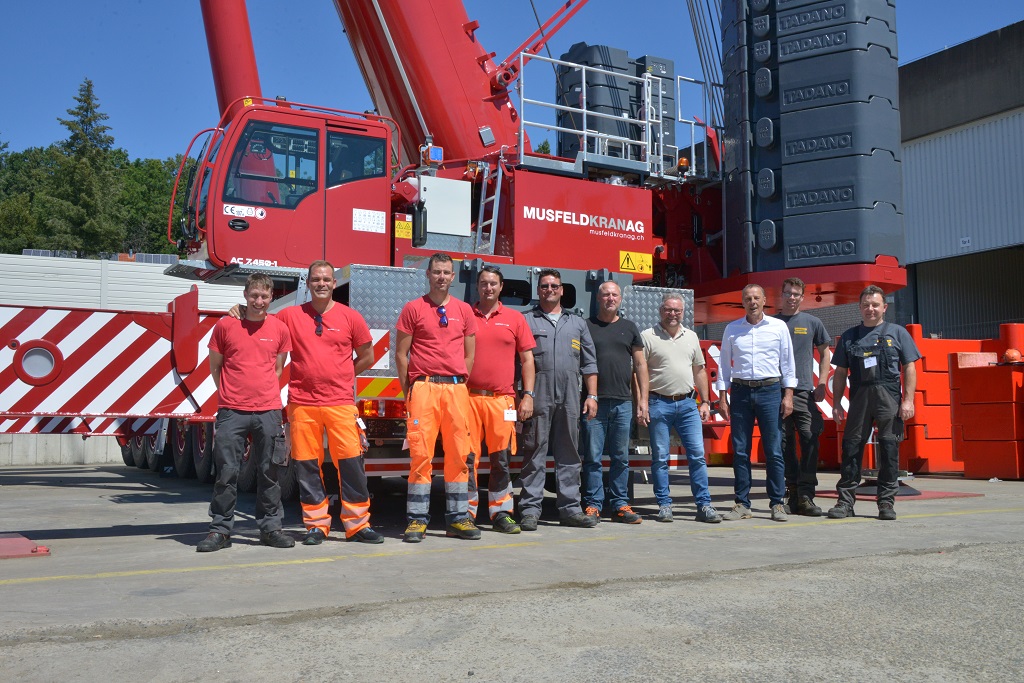 Basel-based crane company Musfeld Kran is a long-standing fan of Tadano quality, particularly when it comes to large cranes. The firm already had an AC 350 and an AC 500, and now they've just added an AC 7.450-1 to their fleet. "We were instantly sold on the AC 7.450-1 – and not just because of its technical specs, but because of its versatility. You see, with its compact design, it can be operated at capacities from 300 tonnes and up," Musfeld CEO Harry Flückiger commented on taking delivery of the new crane in Zweibrücken. He was accompanied by several of his staff, who received instruction in the operation of the crane as part of their trip. The crane was formally handed over by Tadano Sales Manager Michael Zieger – it's the third AC 7.450-1 handover he has done for Swiss clients. While its home base will be at Musfeld's branch in Basel, the crane will be used by all companies in the Toggenburger Group, with which Musfeld has a joint venture.
Harry Flückiger made sure his staff had input into the decision on the AC 7.450-1 – a wise move, given that they will be the ones using it. And their training in Zweibrücken only confirmed that they had made the right choice. They really liked how easy it was to handle and rig the Superlift system using the self-assembly feature, which they found to be extremely user-friendly. They were also particularly taken with the long main boom, which will come in very handy for jobs like erecting tower cranes. Flückiger explains: "We often have to work in tight spaces, especially in cities like Basel. And in confined spaces, it's very difficult to add a luffing jib or an extension, so the AC 7.450-1 unit's long main boom is ideal." Musfeld did, of course, order the luffing jib accessory as well because, working in urban areas, they frequently have to hoist loads over obstacles. The luffing jib also increases the crane's resale value – not that on-selling is even remotely on the cards at the moment.
For Musfeld, one of the main all-round benefits of the AC 7.450-1 is its compact design: the 7-axle crane combines the dimensions of a 6-axle machine with the lifting capacity of an 8-axle machine. That, in combination with the Surround View camera system, makes it the best in its class for Musfeld's projects on tight job sites. The Swiss crane professionals are also impressed with the crane's ease of transport and short setup times. The fact that the AC 7.450-1 machine's counterweight plates are interchangeable with those of the AC 500 is a big plus, too.