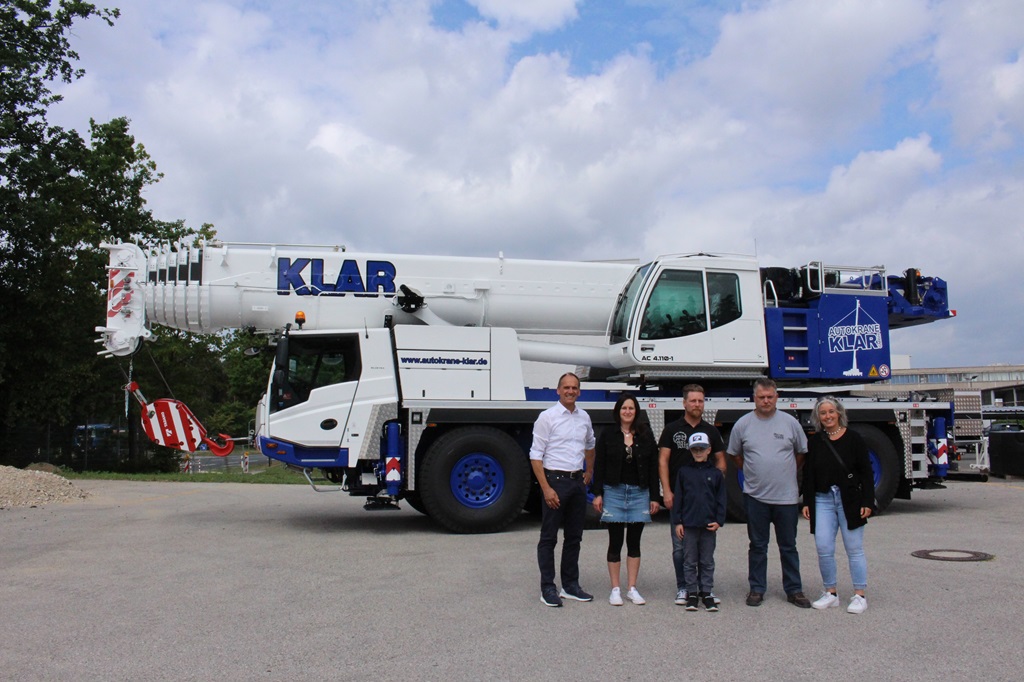 When it came time for St. Wolfgang, Bavaria-based crane services firm Autokrane Klar GmbH to invest in another 100-tonne machine, managing proprietor Stefan Klar was very clear about what he wanted. "In this class, we already had an ATF 100 G4, and we're more than happy with its performance and reliability. That's why we chose the successor model, the AC 4.110-1, which is even better than the original in every respect." The crane was formally handed over by Tadano Sales Manager Hans Asam. He's no stranger to Autokrane Klar – hardly surprising, given that the firm's fleet already includes six other Tadano all terrain cranes, ranging in lifting capacity from 70 to 400 tonnes, as well as an AC 40 City.
Stefan Klar was particularly taken with the AC 4.110-1's main boom. At 60 meters in length and even stronger than its predecessor, the boom means the crane delivers lifting capacities that are exceptional in this class. "For me personally, that's definitely the best thing about this crane," he said. He was also sold on the crane's compact dimensions, because even with 24 tonnes of counterweight, it measures only 2.75 meters in width. What's more, it maintains a counterweight tailswing radius of just 3.8 meters even with the full 30.4 tonnes of counterweight on board.
Autokrane Klar ordered the AC 4.110-1 with a second winch and a heavy-lift runner because it intends to use it mainly for lifting prefabricated building elements and building facades. "It's perfect for that kind of work right out of the box, and even more so with the optional equipment," Stefan Klar said.