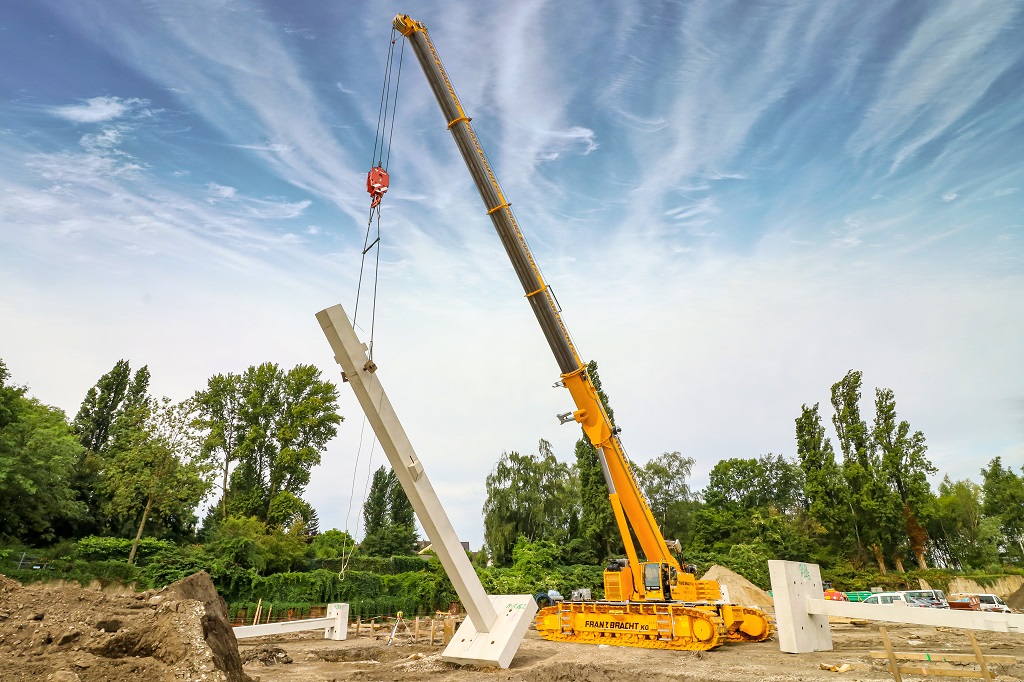 "The Tadano GTC-2000 closes the gap between the 130 and 220-tonne capacity classes. And with a lifting capacity of 200 tonnes and a supremely powerful load moment of 585 tonne-meters, it's simply a perfect fit for our fleet – after all, our mission statement is that we provide our customers with the exact crane they need for their specific projects," explains Bracht Technical Manager Thomas Spangemacher, who received the new telescopic boom crawler crane in Zweibrücken from Tadano Sales Manager Manfred Drößer. And just a short time later, the newcomer was given the opportunity to prove its worth during a punishing project requiring continuous operation in Mülheim an der Ruhr.
One of Bracht's criteria leading to the decision to purchase the Tadano GTC-2000 was the telescopic boom crawler crane's enormous lifting capacity on inclined terrain: More specifically, it can lift a good 34 tonnes at an inclination of 4° with a 30-meter-long main boom at a radius of 12 meters. This means that it's often possible to skip the time-consuming step of leveling the ground at the work site, for example when erecting large lattice boom crawler cranes on challenging terrain. Not an insignificant advantage for Bracht, as the company has several of these cranes in its fleet, including six CC 3800 units, three TC 2800 machines, and one CC 2800. But Bracht is planning to use the Tadano GTC-2000 for other jobs as well, and in fact considers it to be the ideal machine for lifting heavy precast concrete components. "A regional construction company tasked us with putting 15-tonne concrete components in place at a work site, and we couldn't have asked for a better test," reports Thomas Spangemacher.
Three-month marathon assignment
The decision was only natural: The company decided to send its new GTC-2000 to the work site in Mülheim an der Ruhr for its first job. Once on site, the crane was set up, with the obligatory Tadano first-assignment support, by a service technician in a mere two hours with 60 tonnes of counterweight – enough to lift the precast concrete components with a boom length of 41.1 meters at a radius of 20 meters.
And so the GTC-2000's debut was ready to start: "We'd planned 20 lifts per day, including moving twice – all for a total of three months," reports Thomas Spangemacher. In other words, the "new kid on the block" was not granted a grace period by Bracht, even though it would soon become obvious that it did not need one: The GTC-2000 completed all its lifts with utmost reliability and laser precision. "Which is exactly what we expected," underscores Thomas Spangemacher, who saw his unshakeable confidence in the quality of Tadano cranes be reaffirmed once again. In fact, he sees this as further confirmation of the fact that buying a second GTC-2000 in the future would be a good idea.