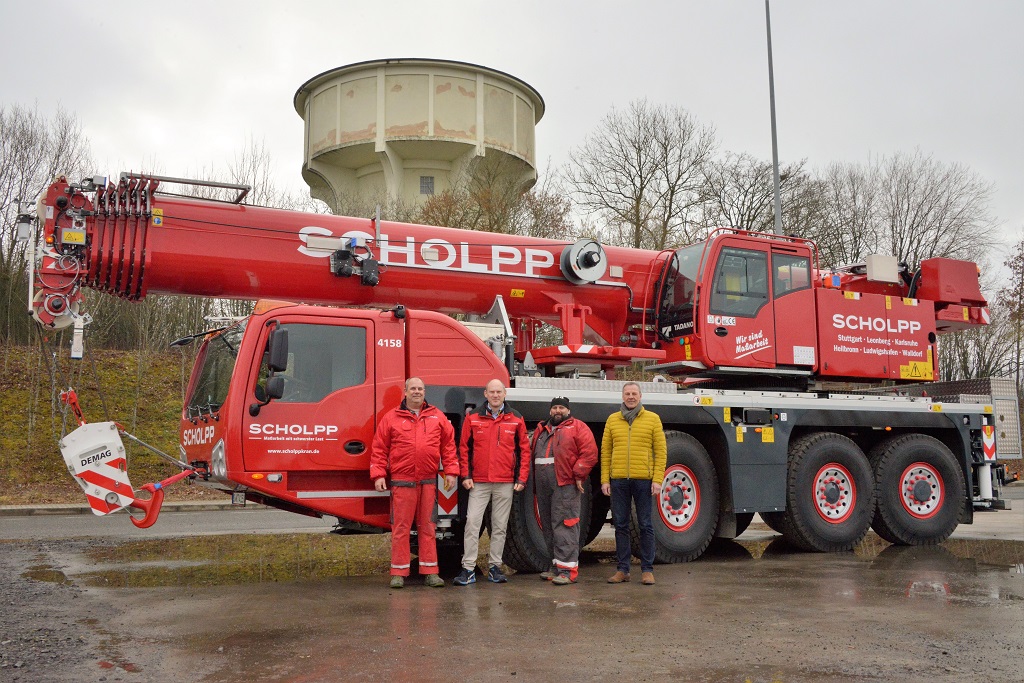 If you ask Jan Meißner, Scholpp's regional manager for the Rhine-Neckar region, he will tell you that the Tadano AC 4.080-1 is the standard by which everything else is measured in its class: "A 60-meter-long main boom and an extremely compact and maneuverable design mean that no one's going to come close any time soon in this segment," he underscored while picking up the crane in Zweibrücken from Sales Manager Michael Zieger.
In addition to that, Jan Meißner adds that Tadano really put together an amazing full package with the AC 4.080-1: "The fact that it's equipped with highlights such as the IC‑1 Plus and the Surround View system means that the crane leaves nothing to be desired, not to mention that the whole thing is available at an incredibly attractive price." Moreover, the AC 4.080-1 is a perfect fit for the Scholpp fleet, which currently has around a dozen Tadano cranes from Lauf and Zweibrücken – from compact City cranes, through five-axle ATF units and an HK, all the way to the large AC 8.500-1.
Scholpp is planning to use its new AC 4.080-1 primarily for house and basement construction, cellular network infrastructure work, and projects in industrial facilities – after all, the Tadano machine is remarkably versatile. This is partially thanks to an additional option that the team at Scholpp wanted without fail: "We ordered this crane with the e-PACK prep package as well, as it will enable us, for instance, to carry out lifts in cleanrooms where zero-emission crane operation is required," Jan Meißner explains.