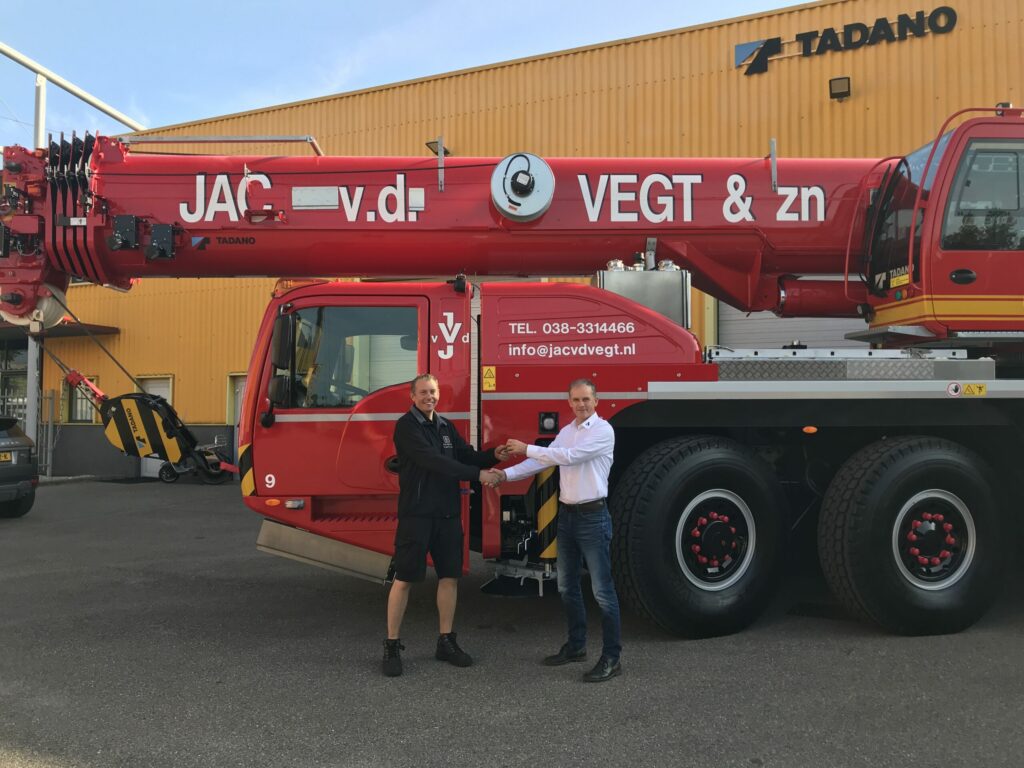 There's no need to ask Dutch crane services firm Vegt what their favorite make of telescopic crane is. The answer is obvious just looking at their fleet: nothing but Tadano machines, with lifting capacities ranging all the way from 40 to 150 tonnes. And the latest addition is in keeping with this proud tradition.
It's a brand-new AC 4.100L-1 all terrain crane, taking Vegt's lineup of Tadano models to seven. The crane was delivered by Tadano Sales Manager Netherlands Richard Beenen, who handed it over in person at the Vegt site in IJsselmuiden to the firm's two directors, Jac Van de Vegt and Wim Van de Vegt. "Vegt is one of our longest-standing and most loyal customers in the Netherlands. They also regularly transport large parts and counterweights for us. So, it's always a great pleasure to meet them in person – especially when the occasion is the delivery of a new crane, as it is today," Beenen said at the formal handover.
Vegt opted for the new Tadano AC 4.100L-1 mainly because of its compact dimensions in combination with its 60-meter main boom length. The company works primarily for the construction industry, so the AC 4.100L-1's compact dimensions make it the ideal choice, especially for tight job sites – the kinds of sites that other cranes in the same class may not even be able to get to. Cost effectiveness was also a decisive factor, as the two Vegt directors explained: "The crane offers truly outstanding lifting capacities, even within the confines of its 12-tonne axle load limit. That makes it an extremely cost-effective taxi crane." They also made it clear that the AC 4.100L-1 won't be the last Tadano to join their fleet.