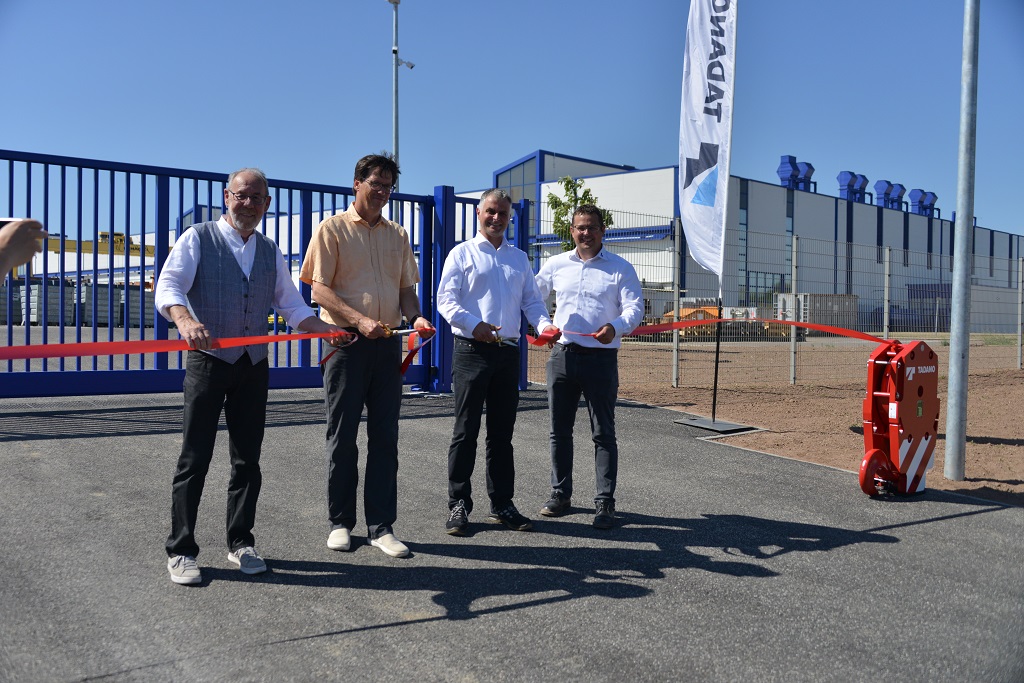 On July 19, Tadano put the new access route to its Wallerscheid plant into service with a formal opening ceremony. The event was attended by Dr. Jan Wieser, Vice President Production, Benjamin Schaal, General Manager of Production Engineering, and Peter Orfey, General Manager Production and Plant Management Wallerscheid, as well as by Zweibrücken's Lord Mayor, Dr. Marold Wosnitza. The former project manager in charge of construction at the plant, Elmar Potdevin, also joined the celebrations.
"The new vehicle access route is an important project for our company as we move ahead with OneProduction and the creation of our centers of excellence in Lauf and Zweibrücken," Dr. Jan Wieser said. Under OneProduction, the carriers of all Tadano cranes will in future be made in Lauf, and the superstructures in Zweibrücken. Final assembly of the cranes will also be done in Zweibrücken – hence the need to reconfigure the infrastructure at the Wallerscheid site. "The new access route is an important milestone in this process. It will optimize material flows and work processes, which will improve productivity at the plant," explained plant manager Peter Orfey. In concrete terms, the new access route will cut on-site travel distances at his plant by about 50 percent. The project will also result in much nicer and more user-friendly setting for customer handovers, which in future will take place exclusively in Zweibrücken.
This project also sends an unequivocal message to Zweibrücken and the surrounding region. "It shows that Tadano is continuing to invest intensively in the future of this site. For our region, that is obviously a very encouraging and important sign," said Lord Mayor Wosnitza. His attendance at the event speaks volumes of Tadano's importance for Zweibrücken.
Preparations for OneProduction running at full speed
The project also has major significance for Tadano's own development. "It shows that we are well on the way to OneTadano, that we are becoming increasingly integrated and moving ahead at pace," explained Dr. Wieser. The company still has a few more steps to take in its OneProduction journey. "The next step in our plan is to build a new, state-of-the-art washing and inspection hall," said Benjamin Schaal. And the plan is nothing if not ambitious: by the end of this year, the company aims to start transferring finished carriers from its plant in Lauf to its Wallerscheid plant for final assembly. There they will be fitted with their superstructures and booms. OneProduction will soon be a reality.